When we moved into this old house, Mr. T and I bought new bedroom furniture...woohoo! Our old bedroom furniture my parents bought when I was 16 and I have been dragging it around ever since. It was time. Past time. I bought new white sheets and a cream matelasse. Then I stopped. I have been searching for the "right" linens since then. I don't know what I want...solids? print? neutral? color? duvet? blanket? bed scarf? standard sham? euro sham? bedskirt? Seriously, there are so many choices out there. I am constantly buying and returning. Buying and returning. Buying and returning... Here was my original inspiration photo:
courtesy AJC.com
Clearly, the linens here are solid white. A little too white for me. I want a little color...maybe...i think...I found a little more inspiration in this:
Pottery Barn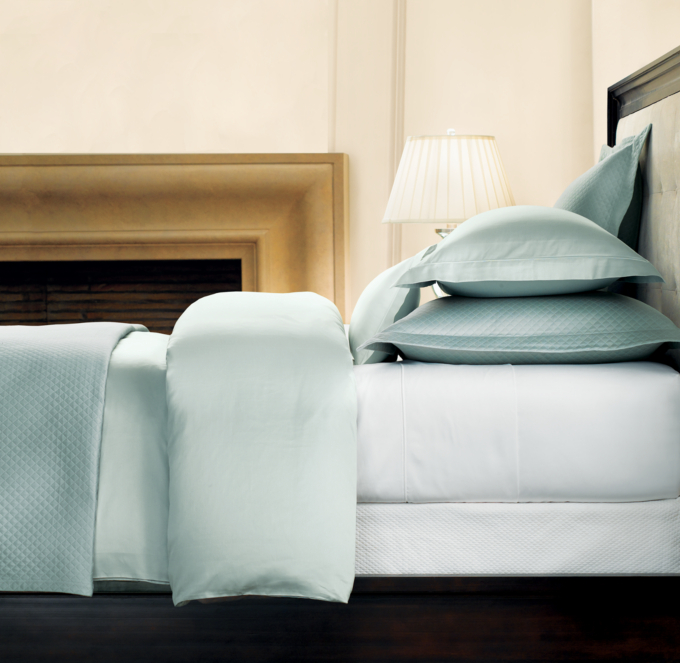 Restoration Hardware
Peacock Alley Athena Collection
Here is my before picture:
Don't laugh but all the pillows on the bed and the down comforter are naked...completely and utterly naked. They bleed feathers all over the place and I vacuum twice a day. It's a pain in my grrrrr. The walls are Silver Sage by Restoration Hardware, same as in the original inspiration photo. The window treatments are semi homemade. I bought them off the clearance rack at JC Penney and had to do some minor major alterations. You probably will not notice that I have a polka dot lamp shade and Mr. T does not, but now you do! The lamp shades are a DIY project that is in progress.
The
Athena Collection
by
Peacock Alley
might be my favorite. I love the mix of solids with a subtle geometric print. This would look great in our master bedroom. If I ordered 2 standard shams, a bed scarf, duvet cover, and one decorative pillow the total would be $1570...but, they would give me free shipping. Isn't that generous! There's a lot of white going on now, and I'm not crazy about it, but until I am 100% sure about what I want...also known as seeing something that is almost 100% on clearance...the bedroom will remain a work in progress. Here's the list of things until it is done:
1. bedding
2. rug
3. crown molding
After looking at the picture more, I have come to four conclusions:
1. i can't see my headboard
2. is my picture too low?
3. maybe I shouldn't go with euro shams
4. i am so indecisive
While I am not ready to fork over $1570 on bed linens, I am ready to get this project done. Updates soon!
Rachel :)